Create Arabic calligraphy artwork that matches that of top calligraphers with ease.
CalliPro محترف الخط has a number of unique features that allow you to create beautiful and elaborate calligraphic designs that you can share or export.
NEW! Insert Quranic text using Mishafi Gold or Silver with search capability (full Quran available as In-App Purchase). (iOS only)
NEW! Inspect the glyphs and ligatures for any font and add them to the design. (iOS only)
NEW! Choose a specific color using the Eyedropper tool.
NEW! Align text or shapes using the Alignment tools.
NEW! Bring design elements Forward or send them Backward.
NEW! Choose from a variety of vector shapes.
NEW! Change the color and the width of the text outline.
NEW! macOS version available
NEW! Share your design across your devices.
Share the design on Facebook. (iOS and Android only)
Choose either Arabic, English or Indonesian UI [user interface] and menus. (iOS and Android only) - Note: macOS version available with English UI only.
Share and send the design through iMessage (requires iOS 10 or later).
Edit and then re-send a design received through iMessage (requires iOS 10 or later).
Choose from a collection of 21 fonts including Diwan's most advanced Arabic fonts like Diwan Naskh Mishafi, Diwan Thuluth, Diwan Farsi, Waseem (Ruqa'a like font), Kufi, and more.
Import external fonts. (iOS and Android only) - Note: Import external fonts and import design are not supported by Google Drive.
Select from installed system fonts, including fonts added by the user. (macOS only)
Select from a number of shaping options for each word segment including alternative shapes, wide forms, and removed dots.
Freely position word segments to create complex compositions.
Add a range of decorative shapes that can be positioned freely to decorate the overall design.
Change the font size.
Use multi-level undo and redo.
Select from a wide range of colors for text and background.
Make the background transparent.
Save the design as an image that can be used with other applications.
Save the design as a high-resolution PDF.
Create designs with different sizes.
Save designs and open them at any time.
Choose from one of the pre-made templates. (macOS only)
Export or Import designs.
Merge two designs to create one design. (iOS and Android only)
Work on multiple designs at the same time. (macOS only)
Customize the toolbar. (macOS only)
Zoom in or out.
Add a background image.
Use a grid for easier positioning of text.
Rotate the text.
Flip the text horizontally and vertically.
Insert multi-line text.
Select font size, alignment, and line spacing before inserting the text.
Lock or Unlock the design.
Group words or letters.
With the ability to export your designs as high-quality PDFs, you can create calligraphy-based designs that can be used as templates for more complicated design work whether manually or using other software.
macOS version

iOS version

Android version
For an introduction to the new macOS version please watch the video https://youtu.be/6sZ841KXhRg.
For an overview of the latest new features please watch the video https://youtu.be/x6t5-s2Mrmo.
For instructions on how to use the iMessage App please watch the video https://youtu.be/hsdTmXR48q8.
For an illustration of more features please watch the video https://youtu.be/DI0Rd-y-u6M.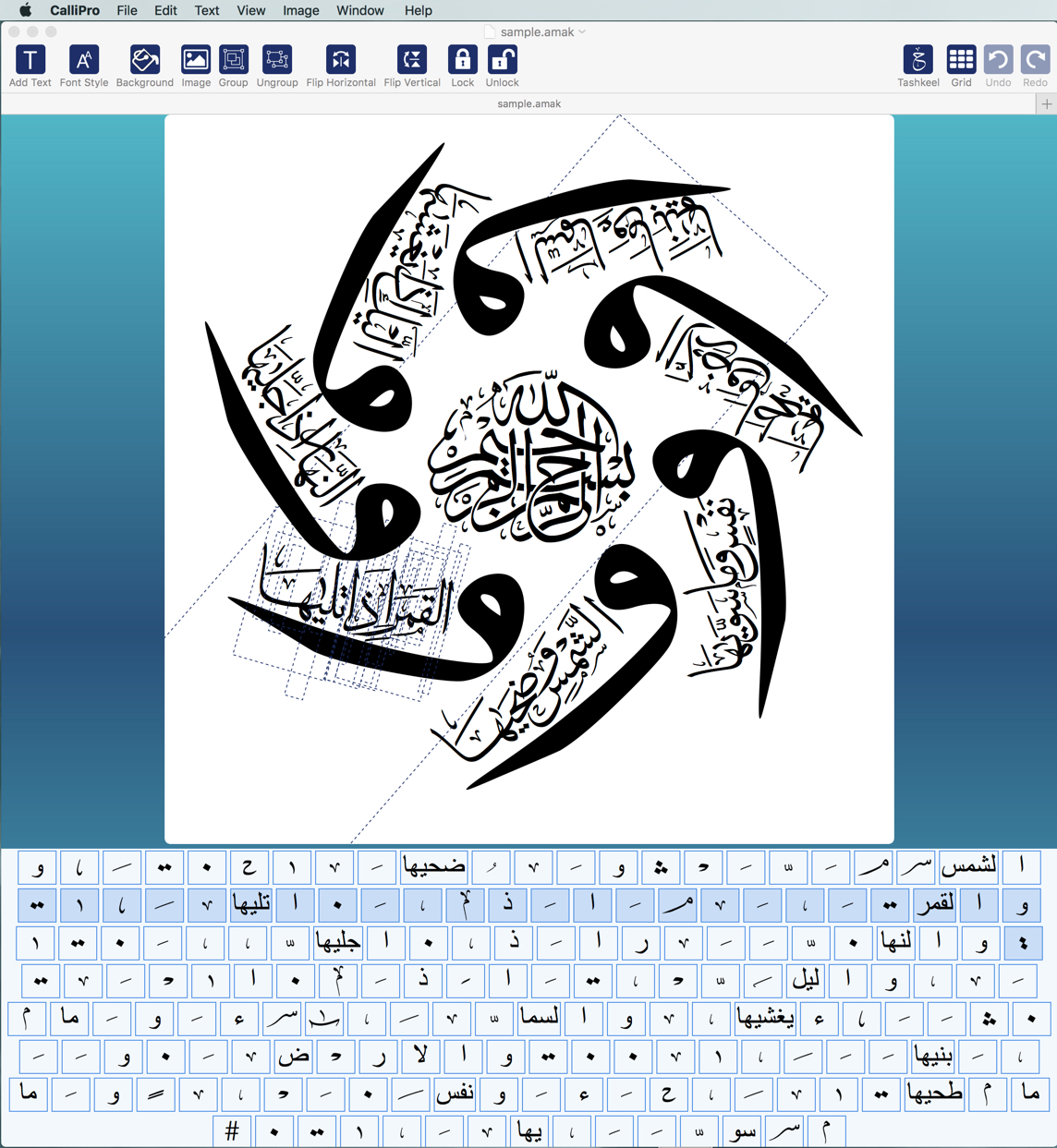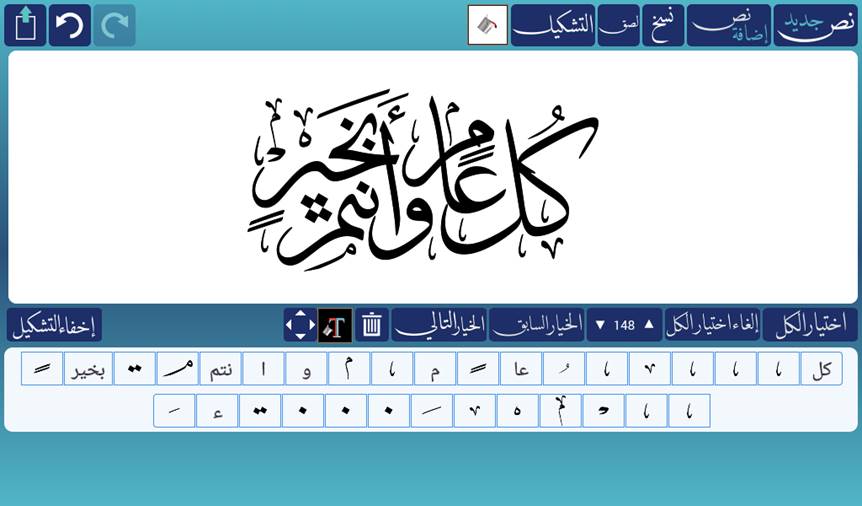 For more information: arabicapp@diwan.com

---